I recently read and loved the new YA novel by Sean Beaudoin called WISE YOUNG FOOL. It's got tons of my favorite things: punk rock, angst, comedy, and oodles of fantastic writing. Did I just use the words "punk rock" and "oodles" in the same sentence? Yessss, I did. It truly is a wonderful and hilarious and bad-ass book. Here's a great bit o' the official blurb:



"Telling the story of the year leading up to his arrest, Ritchie grabs readers by the throat before (politely) inviting them along for the (max-speed) ride. A battle of the bands looms. Dad split about five minutes before Mom's girlfriend moved in. There's the matter of trying to score with the dangerously hot Ravenna Woods while avoiding the dangerously huge Spence Proffer--

not to mention just trying to forget what his sister, Beth, said the week before she died."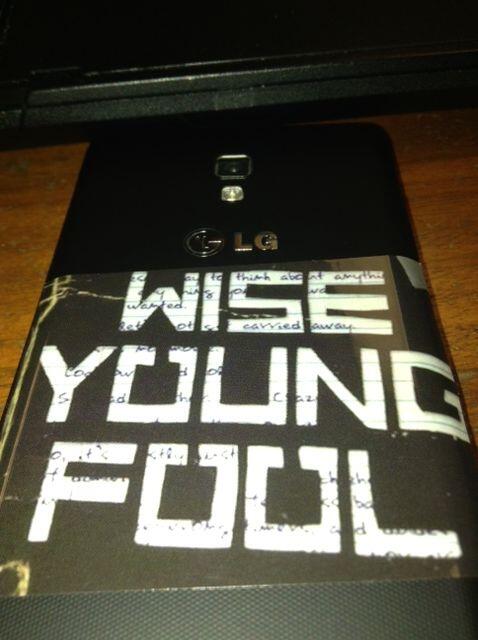 I loved it so much that I decorated my phone with the book cover.
I loved it so much that I wrote to Sean and asked him some questions. The interview is below, with a bonus picture of the author as a young rocker and an even more bonuser super metal video by the band Carcass.
Um, warning, re: PG-13 language in this interview.
JB: The first question that comes to mind is: Where did the practice of changing band names to include the word "Fred" come from? It cracks me up: Fred Zeppelin, Grateful Fred, and so on. Is it meant to be a kind of thumb in the eye at rock pretension? Has it occurred to you that the band Right Said Fred is impervious to this jab?
SB: I honestly can't remember if a friend of mine and I used to actually do that as a joke, or if I only wish we did. At some point in high school I just started inverting names in my head about bands I thought were faintly ridiculous. I mean, I loved Led Zeppelin back then (still mostly do), but their whole Black Magic/Middle Earth/Brainless Sexual Allusion routine definitely seemed to need a few jabs in the ribs, even while I was rocking out to "Bron-Y-Aur Stomp" in the back of a chopped '68 Chevelle.
You are incorrect about the Teflon properties of Right Said Fred. For a while I had it in the book as Fred Said Fred but cut it when I decided there was less than a 2% chance that anyone younger than 39 would get the joke.
JB: What would El Hella* think of the fact that I was once in a band called "black midget?"
SB: He would probably sneer, shoulder you into a locker, and ask if your pussy band featured you on keyboards or flute.
(*El Hella is the main character's best friend and rock & roll bad-ass.)
JB: What is the author's experience playing in bands? Any old band photos/videos/mp3s you can dig up and share?
SB: The author played in a variety of hapless and generally incompetent bands over the years. Except for Perv Idols, which terrorized San Francisco in the early nineties, released one extremely limited-edition cassette demo, and was really just me and my friend Henry in his attic with a Fostex four track and a bunch of semi-functional instruments. Pic below is the cover of our album, which never existed.
JB: Is Wise Young Fool, to your knowledge, the only YA novel to reference the band Carcass? I used to be obsessed with "Necroticism – Descanting the Insalubrious," as it was a pretty amusing combination of metal and a thesaurus.
SB: If it's not, I immediately want to buy and read the other one that does. Carcass! I bought that album in a record store in Manhattan because the dude behind the counter had it cranked at top volume and I instantly fell in love with its complete indifference to the social compact. Namely, taste, morals, ethics, melody, and/or an interest in selling a single copy. If I was in therapy right now, the therapist would lean over and point out that that probably means I am inclined to embrace those who hate (or are at least utterly indifferent to) me. And it's true. Probably not my best trait. As far as favorite tracks, I have long been fond of "Manifestation of Verrucose Urethra" and "Oxidized Razor Masticator."