I had a really great visit last week to Abington Friends School. It's in "Greater Philadelphia," which is like Philadelphia but greater? Anyway, it really was great! Man those kids are smart! And fun. The teachers and librarians are awesome too and really it was one of the coolest visits ever. So many kids had read STRIKE THREE and so many had fun questions. I did a bunch of writing exercises with the students. I didn't quite have the time to write a full chapter like I do at some workshops, but I did come up with a really fun story map which I brainstormed with the students. See below!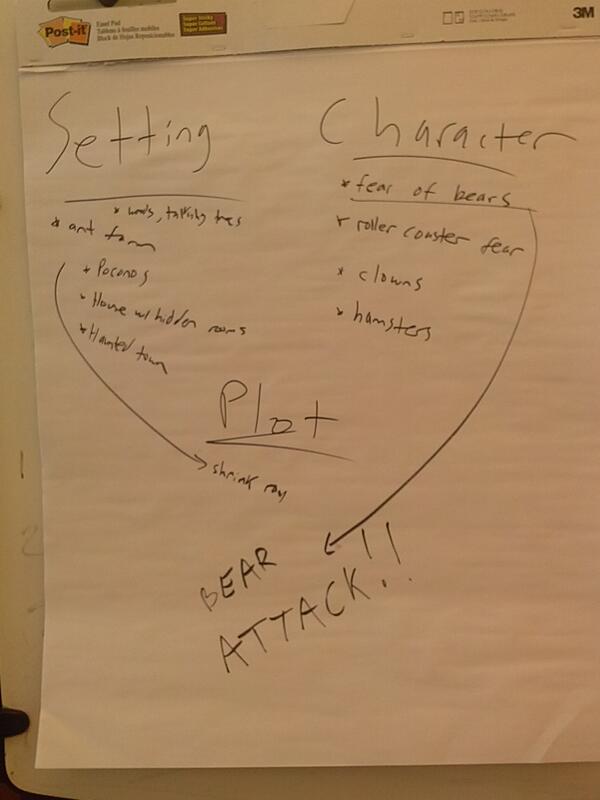 As you can see, it all leads to a BEAR ATTACK! We brainstormed the beginning of the story as well. It went something like this:
"
I hate bears. Okay, I don't really hate them, they just freak me out a little. Okay, a lot. I don't like Grizzly Bears, I don't like Polar Bears, I don't even like the Chicago Bears. I won't eat a gummy bear and I'd rather snuggle up with a live shark than take a nap with a teddy bear..."
Then of course there is later a BEAR ATTACK! It was a fun way to show how character can lead to plot which can lead to setting (it takes place in the Poconos). We also decided that Abington Friends School would be a cool setting for a story itself because it's been there since 1697 (!) and there are all sorts of interesting old buildings and secret rooms and so on. What a great place! Have me back any time, ABS!